artist bio: m. aaron bell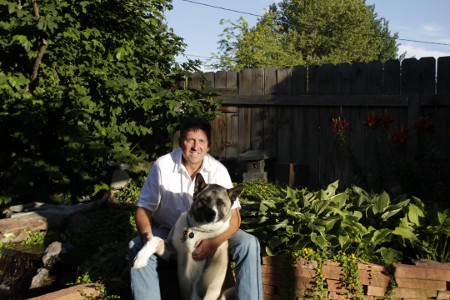 I was raised in Salt Lake City, Utah. I grew up camping, hiking, snow and water skiing in the Uintah Mountains. In my twenties and thirties I lived along the beaches of Southern California. I chased girls, surfed and didn't save any money. I just turned fifty and still love to snow and water ski, minus the hotdog routines. Although surrounded by the beauty of the coast, I always missed the mountains and pine trees. I am a Land Surveyor by profession which has allowed me to spend much of my time working in the Mountains and Deserts of the Pacific North West. When I left California I spent a couple of years living in the Southern Utah and the Grand Canyon area. There I was seduced by the beauty of the desert and red sand. From there I moved to Boise, Idaho where I have spent the past fifteen years. Five years ago I bought six pine tree covered acres in the Clear Creek National Forest. I have spent that time designing and building a couple of small cabins. I've gathered lodge pole pine trees from the Sun Valley area to use as structural supports in the cabins. I have also used the lodge poles to build furniture, beds and cabinets. I enjoy writing, playing acoustic guitar and painting.
I'm currently raising my second Akita, Tomo who is almost three and is the happiest boy ever. About four years ago my eight year old Akita ChoNan was diagnosed with bone cancer. I was told he had six weeks to live. I took him down the north side of my property where it is cool and shady and spent several days trying to make him comfortable. Together as we sat among the pine trees, I came to terms with the inevitable loss of my best friend. The beauty of this mountain helped me realize that his death was a part of life's cycle and that all things must pass.
These past four years I have spent hours and hours in this forest. Through all the seasons I have sat in these woods and become a part of this spiritual and harmonious place. Here I have found a serenity that I had never known. For quite some time I have felt an intense desire to try to capture and share the beauty of this place. A while back I bought water color supplies and started painting. The trees, mountains and shadows in my paintings are similar to the hillside behind my cabin. I don't sketch first or paint from a photograph. I sit down and just start painting. The end product is what exists only in my mind's eye. If someone looks at one of my paintings and gets even a fraction of pleasure from what they see, then I have accomplished something amazing and very personal. Because then I truly am sharing the beauty I see in this world.